G
öçmen olarak kendinizi hayal ettiğinizde eminim sizin de aklınızdan bu ikilem çok geçmiştir. En azından biz de Avustralya'ya gitme kararımızı vermeden önce bu ikilemi yaşamıştık ve en ağır basan (en ayırt edici) özellik olarak Avustralya'nın sıcak iklimini tercih etmiştik. (Şimdiki bulunduğumuz yerle kıyaslama yapmazsanız sevinirim 🙂 )

Dün emailime gelen aşağıdaki kıyaslamayı sizinle paylaşmak istedim, her ne kadar çok genel kıyaslamış olsa da yine de güzel bir özet olmuş.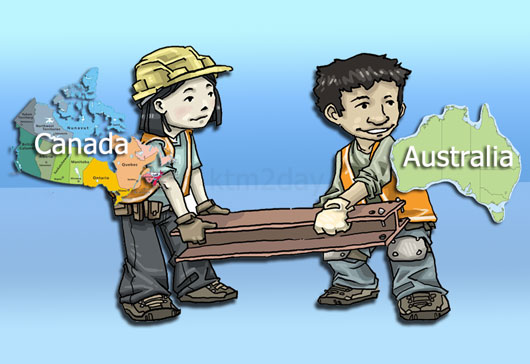 (Yazının orijinal adresi: https://www.quora.com/Which-country-is-the-best-Australia-or-Canada )
Let's be scientific here, and not just vote for our own country.
Life expectancy: Australia is number 4 (82.8 years) while Canada is number 12 (82.2 years). Not much difference, but Australia wins this comparison. (List of countries by life expectancy – Wikipedia)
GDP per capita: Australia is number 17 (US$48,899) and Canada is number 23 (US$46,437). Again, Australia. (List of countries by GDP (PPP) per capita – Wikipedia) – it does not matter whether you use the IMF scale, the World Bank scale, or the CIA scale, Australia comes out slightly above Canada.
Human Development Index: Australia is number 2, while Canada is number 10. Again Australia is ahead. (Human Development Index – Wikipedia) to some extent this overlaps with the above scales (Life, GDP).
World Happiness Report (2017): Canada is number 7 (7.316) and Australia is number 9 (7.284). Canada is ahead on happiness. (World Happiness Report – Wikipedia)
Mooses: population in North America in steep decline. (Moose – Wikipedia)
Kangaroos: the population is bounding along "The Australian government estimates that 34.3 million kangaroos lived within the commercial harvest areas of Australia in 2011, up from 25.1 million one year earlier" (Kangaroo – Wikipedia)
Climate: Canada is much colder than Australia, which has a third of the mainland inside the tropics.
Geological stability: Canada is more unstable " is geologically active, having many earthquakes and potentially active volcanoes, notably Mount Meager, Mount Garibaldi, Mount Cayley, and the Mount Edziza volcanic complex." Australia has no active or dormant volcanoes on the mainland or Tasmania, and relatively few earthquakes.
Politics: Trudeau or Turnbull? I'd vote for Trudeau.
If you want to be slightly richer, live slightly longer, with a strong "human development" index; and like a warm or hot climate and lots of kangaroos, and think earthquakes and volcanoes are dangerous, then Australia is better.
If you want to be slightly happier, with a very popular Prime Minister, and you like cold climates and skiing, and want to see a moose before they all die out, and think volcanoes and earthquakes are exciting, then Canada is better.